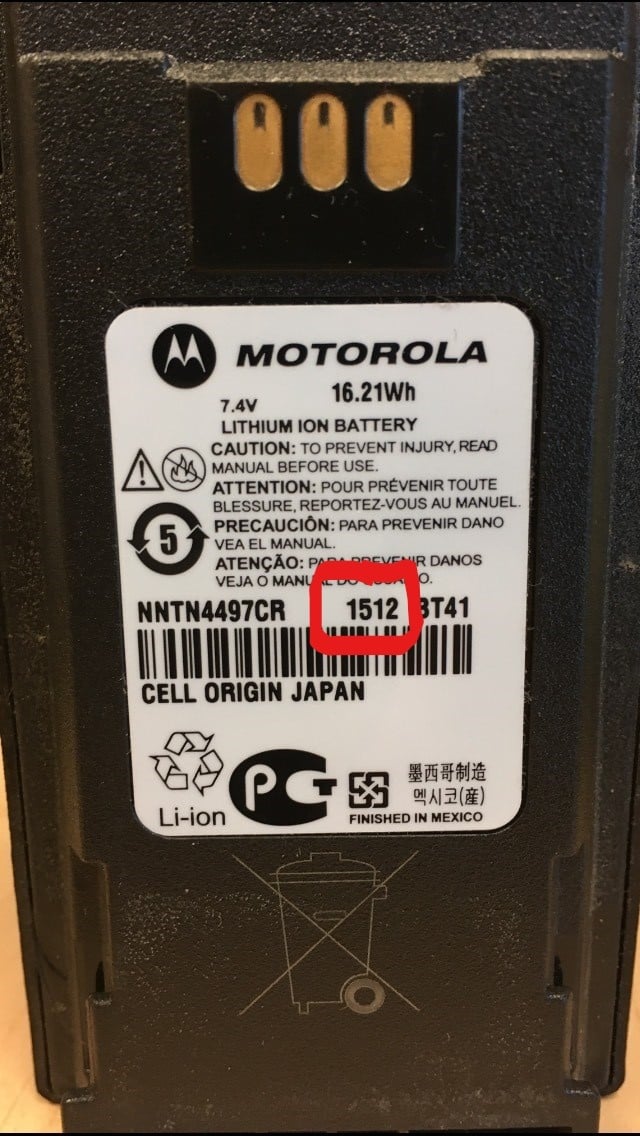 How to Read the Date Code on your Motorola Two-way Radio Battery
Do you ever wonder if the problems you are having with your two-way radio is due to the battery? One important thing to know about the battery is that it has a date code located on it! Depending on use, Lithium Ion batteries can last for 3-5 years. It is important to know that radio problems you are experiencing may just be because you have an old battery on your radio that needs to be replaced. Lets look at the picture below:
Next to the part number of the battery (NNTN4497CR in this case) there is typically a 4 digit date code. For example, on this battery we see the code "1512". The first two digits have to do with the year of production. So with this battery the "15" stands for 2015. The next two digits stand for the week of the year that the battery was manufactured. This battery was manufactured in the 12th week of the year.
So, from reading the date code, we can see this battery was manufactured on the 12th week of 2015.
In some cases, if your battery is very old, you will see only 3 digits. For example, the code "145" would stand for the 45th week of 2001.
Make sure your battery is up to date!
If you have any questions or concerns regarding your current radios or radio batteries, feel free to reach out to us at: