Two-way Radios and Hotel Operations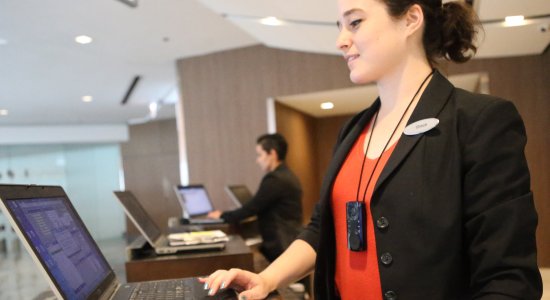 Communication is at the center of keeping hotels running smoothly. It's important that housekeeping, front desk, maintenance, and all other departments are staying connected throughout the day. This is why quality two-way radio communication is important for day-to-day operations.
Whether you are running a small hotel with 50 rooms, or a large resort with over 5,000 rooms, it is important for all employees to stay connected. Two-way radios allow you to enhance staff efficiency while improving guest satisfaction. Radios are more efficient and effective now than ever before. Slim radios like the SL300 or the SL3500 are some of the favorites due to size and capabilities. These radios are durable and light, which makes them ideal for any department to use. Motorola offers a wide range of options and has radios that are just right for your hotel and what you are looking to use them for.
With radios, work-order tickets can be placed and situations can get handled faster. Simple push-to-talk capabilities and sharing real time information is key when handling an emergency, or getting repairs done on rooms before guests arrive.
Hotel staff members look to communicate effectively by using earpieces to communicate hands free, or even using their WAVE On-Cloud app to connect their smartphones with their two-way radios.
Two-way radios have proven to enhance guest satisfaction and improve operational efficiency. To see more radio options for your hotel, visit https://www.radioresource.com/motorola/mototrbo/system-equipment.htm