Two-way Radio vs. Cell Phone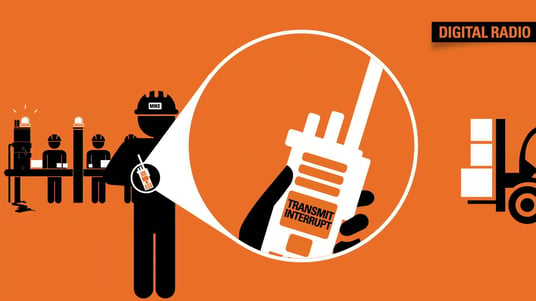 Two-way radios offer a great advantage over cell phones when it comes to keeping your work team connected, efficient, and on task. Often times it easy to lose reception on a cell phone or not connect instantly with the person you are attempting to call. Two-way radios from MOTOTRBO can connect you instantly with one person or all of your work force. With MOTOTRBO, you are able to send texts, emergency alerts, work order tickets, and much more.
Take for example a manufacturing plant. When a piece of machinery malfunctions in the plant, production comes to a halt. With a MOTOTRBO Digital radio the production manager can quickly send out an alert to ALL of the employees on the floor letting them know there is an issue. In this situation the production manager can quickly put in a work order ticket and request an order for new parts all over their MOTOTRBO digital two-way radio. MOTOTRBO allows you to easily transmit voice and data in an instant, allowing radio users to take care of the situation on hand with one device. Not to mention, two-way radios are far more durable than cell phones. With noise cancelling accessories and technology, two-way radios can help users communicate clearer in tough environments. Users can have more piece of mind knowing their radio is durable and can get the job done. Cell phones, especially in the manufacturing setting have proven to be less efficient, less durable, and more distracting. Quite often cell phones can lose service, are slow to turn on, and are not reliable in noisy situations.
Digital two-way radios from Motorola have been proven to withstand tough environments for long hours. There are even intrinsically safe options for two-way radios for those working in hazardous environments.
To find a walkie talkie solution that works for you, feel free to reach out to us at https://www.radioresource.com/contact-us.htm