Vertex Standard EVX-S24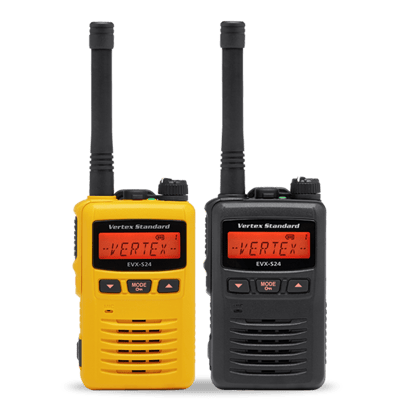 The Vertex Standard EVX-S24 is ideal for users who is looking for a smaller radio that can enhance their team communication. This radio is the smallest and lightest radio that Vertex Standard makes measuring in at 3.58in. x 2.17in. With a small frame, this durable radio can enhance communication in many different industries. Education, hospitality, retail, and many others are seeing the benefits from using this sleek radio. The EVX-S24 can be implemented in your analog or digital fleet with ease as well. Transmit interrupt, enhanced call quality, and direct mode are a few of its many features that it boasts. When it comes to power, this radio is 3 watts in digital and 2 watts in analog.
The EXV-S24 has 4 programmable buttons and alphanumeric display that is easy for users to read. This durable radio has an IP67 rating and is water submersible up to 3 feet for 30 minutes! With the S24, you have many options for accessories and even enhancing coverage beyond its normal range.
Some accessory options include longer antennas that can enhance coverage and belt clips that makes your radio easy to access at all times of the day. The S24 is easy for all staff to use and is a favorite among radio users looking for a lightweight option for their team communications. This radio is available at a cost effective price and has had a positive impact on operations for many of our current customers.
To find out more about the EVX-S24 contact us at: