Two-way Radios and Radio Infrastructure for Schools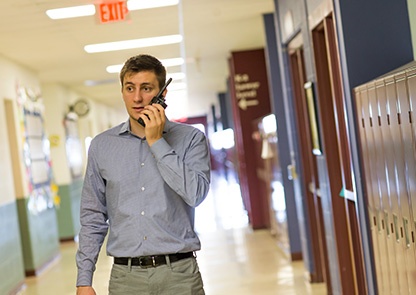 Administration, teachers, and students are all preparing for the upcoming Fall semester. Before school starts, it's important to ensure quality communication systems are in place. Let's take a look at some common infrastructure and two-way radios that we see in many different schools today.
This SLR5000 series repeater has a sleek form factor with a low power consumption. This MOTOTRBO repeater allows you to have one analog channel and two digital channels. There are ways to expand the capacity of your repeater with Capacity Plus or Capacity Max from Motorola. This repeater can be tucked away in an IT closet or mounted to a wall. This repeater has proven to be durable and a solid piece of two-way radio infrastructure for many school communication systems.
The Motorola EVX S24 is a favorite handheld radio among administration and staff. This radio is small, light, and compact and is easy to carry to the playground or walk around the halls with. This radio provides clear digital voice and is easy to use, and there are many accessory and carry options available as well.
The SL300 is a slim radio from Motorola is another favorite among administration and teachers. Due to its form factor, it can be easily fit into a coat or pants pocket. The bright LED display screen allows you to easily see what channel you are on. The SL300 is similar to the EVX S24 in that there are numerous accessory and carry options.
When it comes to school two-way radio communication, it's imperative that the systems in place are reliable and provide clear communication. If you're looking for solutions for your school or school district, feel free to reach out to us at: https://www.radioresource.com/contact-us.htm