SL Series Radios from Motorola Solutions-Where Function and Style Meet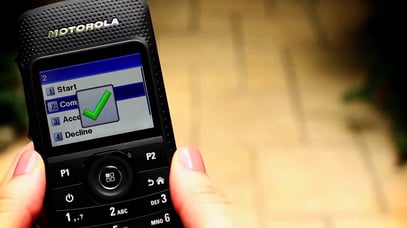 Keeping your work team connected can be a challenge if there aren't the proper communication systems in place. The MOTOTRBO SL Series radios allows users to stay more connected by utilizing different business applications. A main part of two-way radio is obviously push-to-talk communication, but the SL Series radios can do so much more.
The SL Series radios are exceptionally slim in size, making the radio easy to use and comfortable to carry. Embedded Bluetooth is also available for wireless audio and multiple earpiece and accessory options are available as well.
Utilizing the SL Series radio to its full capability allows you to see the power of team connection and makes your team more efficient. There are numerous business applications that can enhance many different parts of your operations and make your team more efficient.
Work order tickets allows you to have quicker customer response and allows you to take care of an issue going on within your operations. In hospitality work order tickets can be used to direct employees to complete tasks such as bringing more chairs to the pool area or taking care of a leak in a specific room. The ticket can be accepted and then marked complete all using the SL Series radio.
Manager's and staff members are all able to connect to their email directly from their SL Series two-way radio. The ability to see important emails through the two-way radios gives staff members yet another tool to help them manage their day and take care of important emails that may arise as they go throughout their day. To go along with email, the SL Series radios can text to each other, letting users connect with ease. Users can utilize telephony as well, connecting radios and landlines to their mobile two-way radios.
Overall, the SL Series digital radios give your team a stylish look but most of all effective team communication. To find out more about the SL Series radios or data applications, please contact us at: