Motorola SL300: Light,Sleek,Durable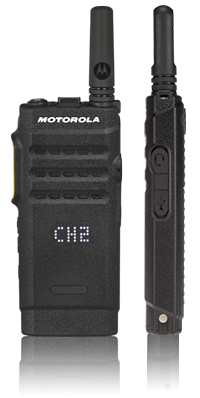 In the world of hospitality, communication is everything. Different departments need to be able to communicate: Hotel operations, Housekeeping, Concierge, Maintenance, Front desk. Without communication in the hospitality industry, operations would not run smoothly, and guests would be left unsatisfied.
Not only is communication important for guest satisfaction, but it's important for guest safety. Radio communication is the strongest and most reliable form of communication within the hospitality and hotel industry. With instant push-to-talk capabilities, radios can facilitate communication easily and efficiently in a matter of seconds. Hotels around the world utilize radio communication for their operations and to ensure the safety of their guests.
Many argue that radios can be bulky, and Motorola has rolled out a new radio that is just the opposite of that. This new radio is the Motorola SL300. Smaller to medium sized hotels can benefit from this 3 watt radio.
The SL300 is lightweight with a simple LED display and short antenna. This MOTOTRBO radio has a sleek design and is easy for all departments to use. At less than an inch thick, this radio is IP54 rated meaning that it is splash proof and dust proof. Because of its design, it is a favorite among users that are looking for a rugged and reliable radio to handle its operations. This radio can be easily operated and even fits in your pocket!
Another feature that makes this radio a favorite among hotel operations is the swivel carry holster that gives you convenient access to clip in and take out the radio with ease.
The SL300 boasts numerous benefits at a great price point for its wide range of capabilities. Upgrade your existing radios to the SL300s or implement them in your fleet to give you easier and more effective communication.
The SL300 can help team communication in a variety of industries. This may be the perfect radio for you and your company.
Click here to see if this radio is the right radio for you!