Kenwood NX-3320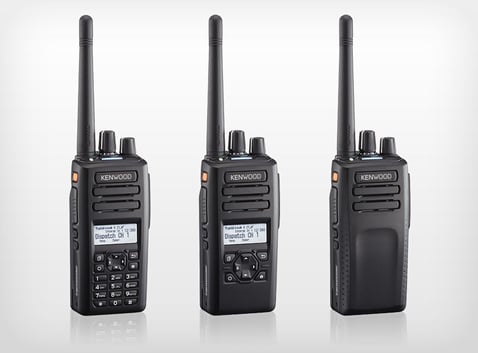 The Kenwood NX-3320 is a top-tier radio with a mid-tier price point. The NX-3320 from Kenwood is a submersible radio that is operable under NXDN, DMR, and standard Analog. Because of these features, this Kenwood radio is ideal for enhancing many different operations. The NX-3320 is available in 3 different variations: Full keypad, 4-keypad, and no keypad. These key pads are perfect for controlling your sprinkler system at your facility, or keeping your team better connected.
Another feature that this Kenwood radio has is a 7 color LED light bar at the top of the radio. This light bar on the top panel is an indicator of what channel you are on. This makes it easy for your team to identify their channel without looking at the LED screen.
Another great feature of not just these radios, but Kenwood radios in general is the Active Noise Reduction technology. This technology is great for noisy environments, or even just providing a greater audio experience for the user.
Its IP67 rating makes it durable and as mentioned above, water submersible. This IP67 rating makes the radio extremely durable and reliable for whatever environment it is exposed to. An intrinsically safe version of this radio is also available to ensure the safety of your staff and your facility.
Features like GPS, enhanced encryption, and sensors for user safety are some other functions of the NX-3320 that make this radio the full package, and overall a great choice for your team.
To get more information and pricing on this radio visit: