Is NXDN the Right Digital Technology for you?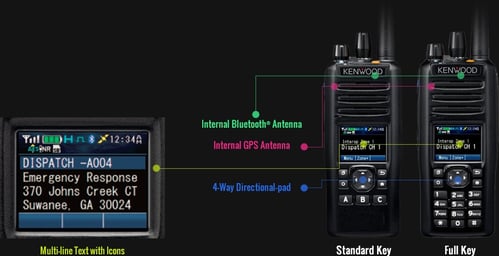 NXDN is a type of digital technology that is FDMA based. This is a difference between NXDN and DMR, seeing that DMR uses TDMA.
Industries like construction, transportation, public safety, and many more all seeing the benefits of using NXDN. NXDN is a type of digital technology like DMR that can enhance operations and provide clearer and more efficient communication between users. NXDN brings many positives to its users, and we will go over a few of them in this article.
When looking at features of NXDN, two types of trunking are offered. These two types of trunking are called NXDN Type-C and NXDN Type-D. Type-C uses a centralized control channel whereas Type-D does not use a control channel. Most of these trunking system feature automatic roaming, individual group and call capability, short text, GPS, and many other features. NXDN could be the right digital technology for you if you are looking for these key features in your digital technology.
One positive that NXDN has used from the start is the use of the vocoder from DVSI. The vocoder that is used in NXDN is widely recognized as the leading vocoder technology. Other two-way radio standards like P25 and DMR use this as well. This vocoder allows for enhanced clarity between radio users and clearer digital voice.
When it comes to coverage and audio quality with NXDN, it is found that it does supply a better footprint than traditional analog FM. With audio quality, it has been noted that many uses feel that NXDN provides clearer and better digital voice compared to DMR. Because NXDN uses FDMA, there is a narrower channel width, which would allow for better coverage. From a personal experience, I have found that a good portion of radio users feel that NXDN gives them better coverage and clearer voice when communicating. This is however personal preference, and I have found that a good portion of users prefer DMR over NXDN.
One radio that uses NXDN digital technology is the NX-5200 from Kenwood. The NX-5000 series radios have proven to be effective and efficient for team communications across many different industries. To see the full set of features and what these Kenwood radios can do for you and your team, check out this whitepaper: