Increase Efficiency and Reduce Costs in the Construction Industry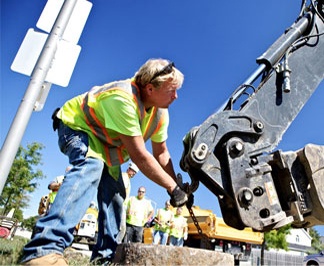 Construction companies are constantly looking for ways to compete and get an edge over their competition. In today's economy, customers are continually demanding lower prices and want projects done quicker. In order to stay competitive, contractors should look to cut down time on their project and increase the effectiveness of their workers.
In order to cut costs, construction companies must maximize their efficiency when working on a project. Team communication is a large part of getting any project done in a timely and organized matter. This is where two-way radio communication comes in. Seamless communication between different workers at a job site can help operations run smoothly and keep your team safer. Whether your company is in charge of building homes or bridges, Motorola solutions has many radio and radio accessory options to keep your team connected.
Workers can instantly connect with their PTT button and find out what they are supposed to be doing next, or communicate with team members throughout their day in regards to the scope of the project. Motorola has a selection of rugged, reliable, and effective radios that can be a great option for you and your team. Many of these radios can withstand extreme temperatures and the roughness of being in the field. To see which radio may be right for you, make sure to look at its IP Rating. This will help guide you in choosing a radio that is right for the conditions that you are exposing them to.
Radios like the CP200D, or the XPR3300 are two of the many radios that can be great options for your construction site.
We would love to assist you and choosing the right two-way radios for your company.
Contact us today at: https://www.radioresource.com/contact-us.htm
Source: https://www.radioresource.com/downloads/motorola/application_brief/construction_twoway_radio.pdf