3 Questions to Ask Yourself When Renting Radios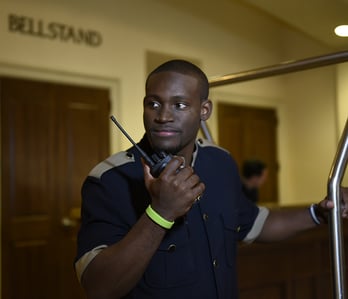 There are many advantages to equipping event staff with walkie talkies. Having a line of communication that is one-to-many keeps work teams connected, more efficient, and can even save lives of those attending your event. When looking to rent, here are a few important questions to ask yourself in order to properly equip your team.
Which radio should I rent?
Coverage, usage, and personal preference all come in to play when looking to rent. Due to its size, the EVX-S24 radio is the most popular radio and is easy to use. The CP200d is also another good option and will give you extended coverage. For larger events, the XPR7550e is a durable option that gives users more options when it comes to their system setup.
Will my staff need radio accessories?
Quite often staff members will need to use a radio hands-free. There are many options users have when renting with Radio Resource. Speaker mics work great for users on the go looking for a rugged solution. Surveillance kits offer a lightweight and discreet look for staff members looking for an in-ear option.
Will I need a repeater for extended communication?
Some larger events may require repeaters to expand coverage of their radios. Renting a repeater and setting it up is quick and easy with our rental fleet. Some large bike races or events in multiple buildings can benefit from renting a repeater as well. Coverage will depend on the geographic location, topography, and event type. Ask our rental team here if suggestions are needed and check out our YouTube page to see how to set up a Radio Resource rental repeater and get radio usage tips.
If you are considering renting radios for your event, feel free to give us a call at 303-987-1545 and we can help find a communication solution for you!