One Platform. One Provider. All of Your Communications Equipment.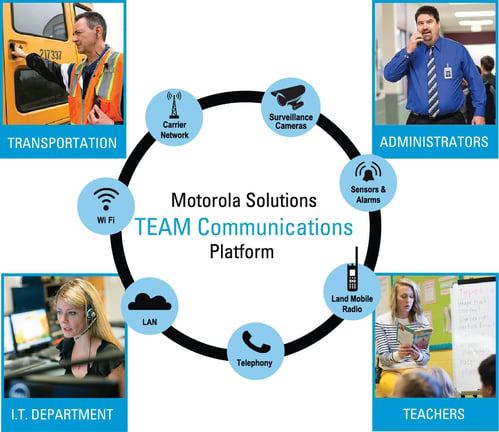 What is Motorola Solutions Team Communications Platform? Team Communications from Motorola allows you to communicate seamlessly between numerous devices. With Team Communications, you are able to unify your work team by connecting your two-way radios, smartphones, computers, telephones, and IOT. This platform from Motorola Solutions allows you to communicate in an instant, without boundaries, and with added intelligence.
A large part of Team Communications is the power of MOTOTRBO. MOTOTRBO allows you to communicate with quality digital voice and data. Extra thin portables, extra tough mobiles, and quality infrastructure have all been tested and proven in multiple industries today. MOTOTRBO helps your work team stay connected with trusted communications equipment.
Another aspect of Team Communications that allows you to connect without boundaries is WAVE broadband push-to-talk. With WAVE, there is no barrier from device, network, or location. Connect with your team in an instant, no matter where you are. Also, by leveraging the Industrial Internet of Things and a variety of apps you will be able to unlock the potential of your data.
Other features such as Dispatch, GPS Tracking, and Security Management Systems are available all through the power of Motorola's Unified Team Communication platform. Industries like Hospitality, Manufacturing, Private Security, Transportation, and many others all have seen the benefits of using multiple aspects of Motorola's Team Communications Platform.
To get more information on Motorola Solutions Team Communications, visit us at: https://www.radioresource.com/contact-us.htm