Motorola SL3500E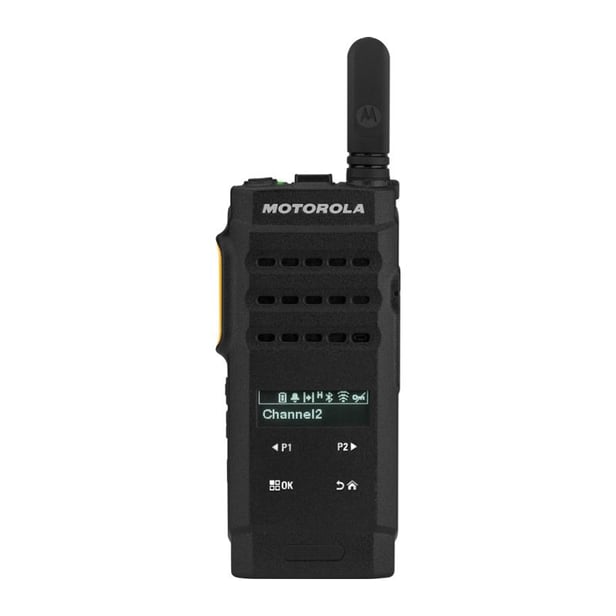 The Motorola SL3500E is a slim and discreet radio that allows you to communicate seamlessly. This radio can easily fit into a suit jacket or pants pocket, making it a favorite among the hospitality industry. It has a clear and easy to read digital display that allows users to easily navigate functions and receive information with a quick glance.
The SL3500e can be used hands-free as well, connecting with Bluetooth and wireless accessories for convenience of its users. This radio can also be programmed over the air, in real time. With this capability all of your radios can be programmed at once.
Because of this, you will decrease down time with your radios, and make more efficient use of your infrastructure.
This lightweight radio doesn't weigh you down, and its slim form factor makes it easy to operate. Enhanced features such as transmit interrupt, mute mode, and quick text messaging are all supported with this device. There are also numerous carrying options available for the SL3500e. This radio supports conventional operation for single sites and IP Site connect as well. Also, the SL3500e supports capacity plus trunking, which will give you higher call capacity due to MOTOTRBO's efficient usage of channel and spectrum.
This radio can be paired with Motorola WAVE push-to-talk and other data solutions that enhance communications within your operations. Having a reliable two-way radio for your operations makes your team more efficient and allows you to handle issues that arise or customer needs in an instant.
Overall, the SL3500e radio is light, easy to use, and stylish. If you are looking to upgrade your two-way radios, or want to learn more about the SL3500e radio, please visit: