Motorola MOTOTRBO ION Smart Radio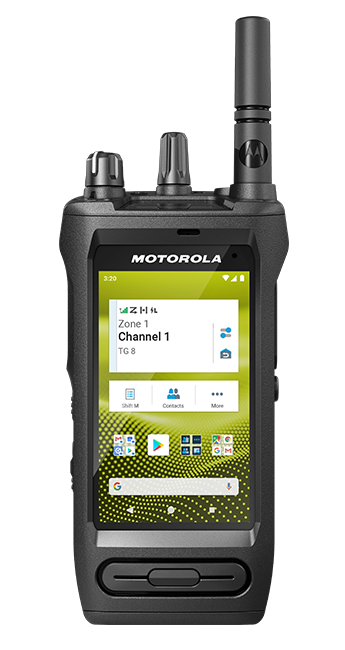 The Motorola MOTOTRBO Ion smart radio allows users to stay connected across networks and devices. This device gives quality PTT performance on an Android platform. Rugged, reliable and dependable are a few key words that best describe this radio.
Manufacturing, Education, Logistics, Stadiums and many other operations can benefit from this device. This new radio allows users to have access to their radio system and also use third party apps that help them get their job done. Applications like Microsoft Teams, ACC mobile, NetSuite, Salesforce, and many others can all be accessible through this device while still having access to your radio system.
The MOTOTRBO Ion is the only touchscreen commercial smart radio that is intrinsically safe!
Here is a list of the many benefits of choosing the Ion:
Android platform

Open app ecosystem

Motorola Solutions' unified technology ecosystem

Full multimedia capabilities • Intuitive touchscreen interface
Easy Integration
Fast setup and updates

Seamless device management

Managed and supported services Secure

Device security

Application security

Data security
Dependable
Built for any environment

Industry-leading audio

Ultra-rugged touchscreen

Customizable experience

Long battery life

Redesigned antenna

Intrinsically safe
Stay Connected
Dedicated PTT device

Seamless Voice Handover

Full network interoperability with WAVE PTX

DMR (MOTOTRBO)

Long Term Evolution (LTE)

Wi-Fi • CBRS (Nitro™)
To find out more about the Ion, contact us at:
https://www.radioresource.com/contact-us.htm