Frequently Asked Questions about the TLK 100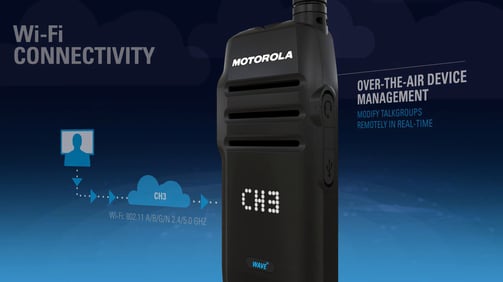 The new TLK 100 released by Motorola is a solution that can truly enhance team communication and keep your team connected. Below are a few frequently asked questions regarding the TLK 100.
What does the pricing structure look like?
As far as subscriptions go, you can either do a month-to-month subscription or a 2-year subscription. If you agree to the 2-year subscription, the radio is FREE! If you are looking to just use TLK 100 units with each other, the price is $35 per month. If you are looking to tie the radio into existing systems or use the WAVE dispatch, then prices can range from $35-$45 per unit per month.
What cellular network does the TLK 100 utilize?
The TLK 100 utilizes Verizon's 4G LTE network.
What type of coverage can I expect form the TLK 100?

You can expect city, state, and nationwide coverage where cell signal is available on Verizon's network. The TLK 100 can also run off of WiFi if being used in-building.
Can Contacts and TalkGroups be customized?
Yes, both Radio Resource and the end user will have a login to the Wave OnCloud Portal where changes can be made. Updates happen over-the-air almost immediately.
Can TLKs tie in with my existing radios?
It depends what type of system you have. Capacity Max, Capacity Plus, and LCP systems can tie in TLK 100's.
Can my TLK 100 communicate with a team member in a different country?
Communicating country-to-country is possible, but both users will need to be connected to WiFi to do so.
If you want more information or have questions on the TLK 100. Please reach out to us at: